Originally posted 27 February 2011
That was a lot more work than I expected it to be!
Anyway, the spotty ruffle is started. I think doubling the fabric was a good idea, and I think the ideas from my last post will work.
From the pictures, it seemed like the ruffles were just below knee length, so that's what I aimed for with mine. I hope I got it right! It looks so bare up top, but there's no overskirt which really affects things :)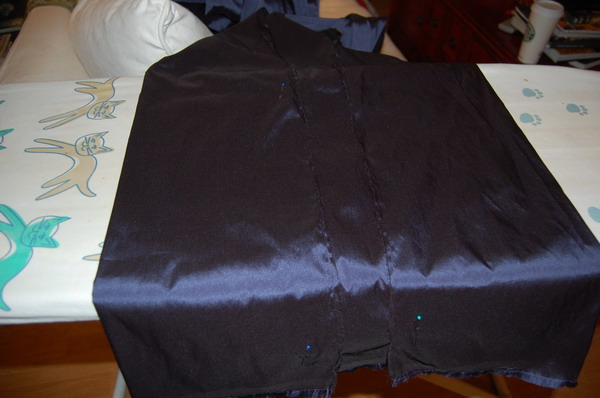 Preparing the fabric. It's about double what I want it to be and the ends are folded in.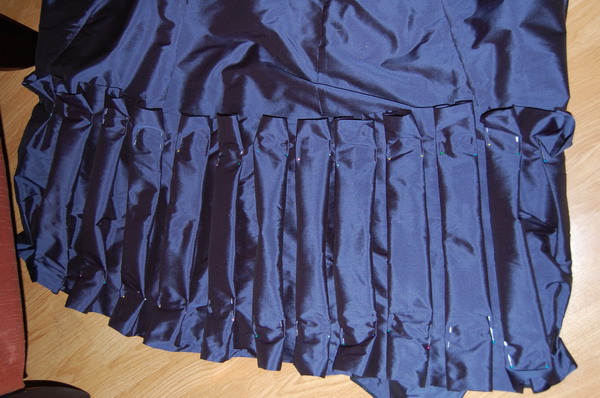 Then the long box pleating process. Notice how puffy they are? That must be dealt with!
I just eyeballed the pleats since theirs were obviously eyeballed as well.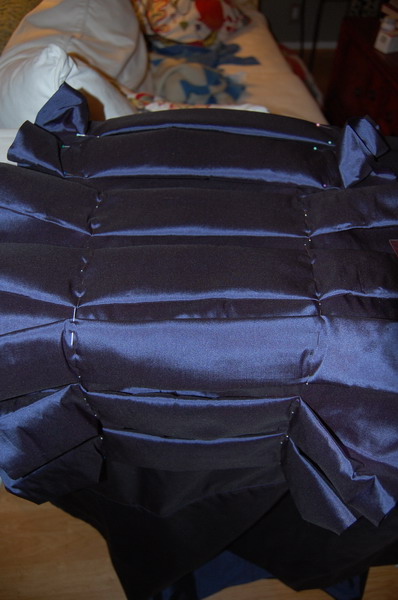 So once I was sure they were reasonably straight, I smoothed them out.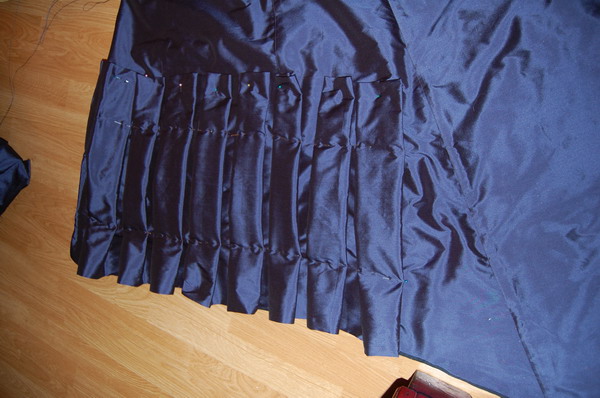 And this was the result. I'll baste it where the pins are, and then put the other ruffle on top.
Once it's basted, I'll lightly press the pleats. I don't think they'll need any stitching in the middle, but they might need some sacque back like reinforcements. I don't think so though, and I really hope not! (ETA: They didn't! So much easier!)
27 February 2011
I was about to cut the flounces for the back of the skirt out. Typical bias cut flounces to be exact. Then I thought, better look at the picture first, especially as this skirt is a fabric hog and I can't afford any mistakes.
I'm glad I did. Except for that scary moment that I thought there were four ruffles--which wouldn't make sense as even numbers look weird--I think I like what I see. One, I think the flounces are on the straight, not the bias as is more common. If you notice, they're sort of just hanging there, not all nice and perky the way bias flounces tend to be. There's a heaviness to them. And also, look at the top flounce. It's smocked. Or something weird. I really like how it looks, but total whimper to doing it. (ETA: We ended up pleating these and found that gave the closest look). It looks like the sort of thing you want to do on the straight of grain though. Hooray for not cutting bias flounces! Of course, second opinions wished for :)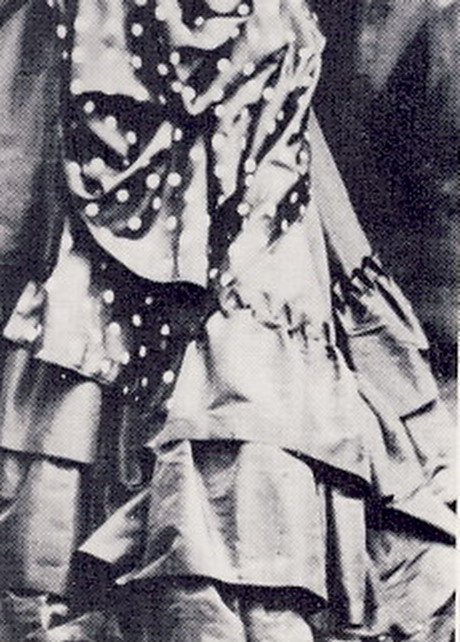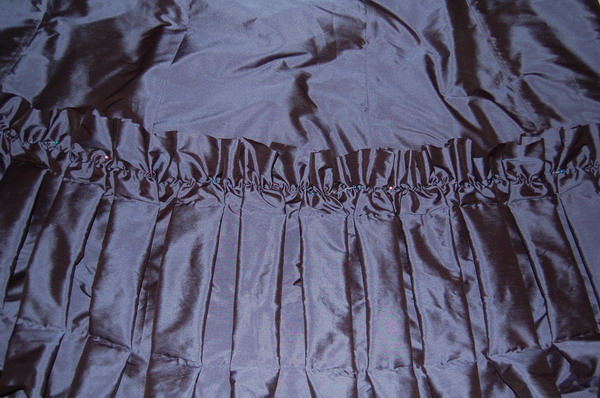 Here we have the top of the ruffle gathered and pinned into place.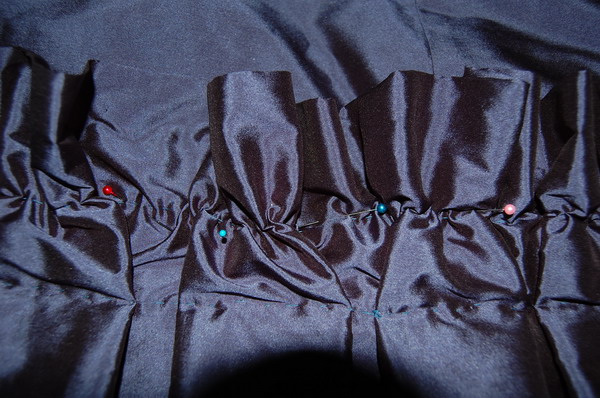 A close up of that. It's seriously not attractive, but it gets covered by the little ruffle, so all is good. Gathering pleats out is weird to do.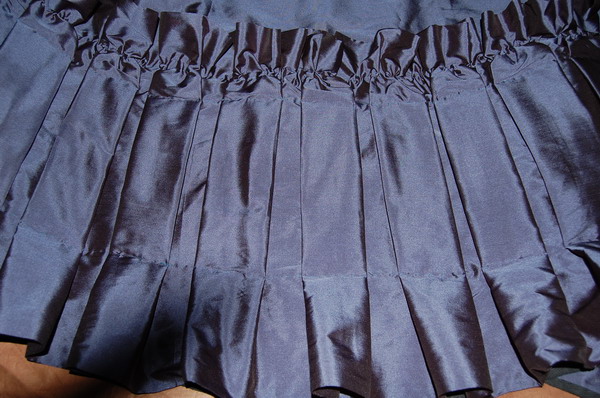 Pressed pleats!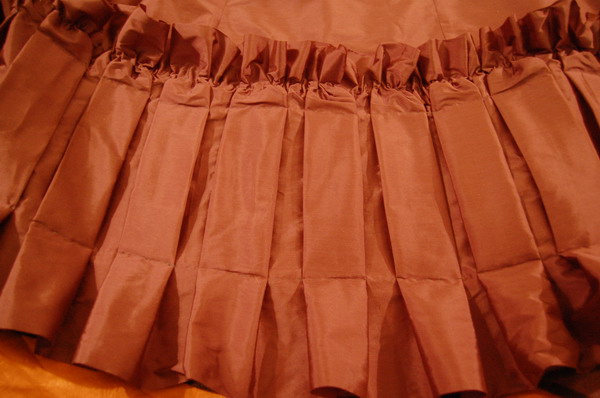 Now flashless. This fabric doesn't like to be photographed :)
3 March 2011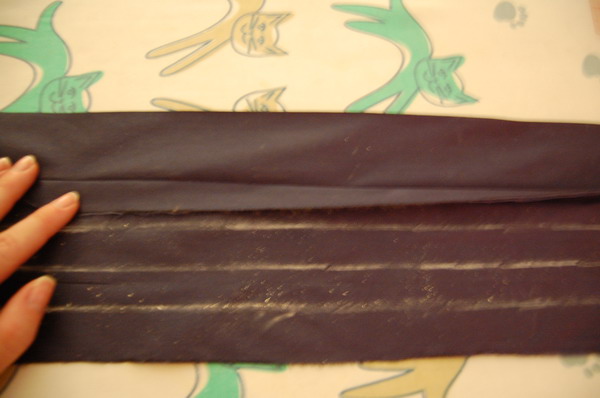 Preparing the ruffle. The fold is 2 1/2 inches long. The ironed fold is 2 inches deep. That's for the first line of gathering. Each line below is 3/4 inch lower.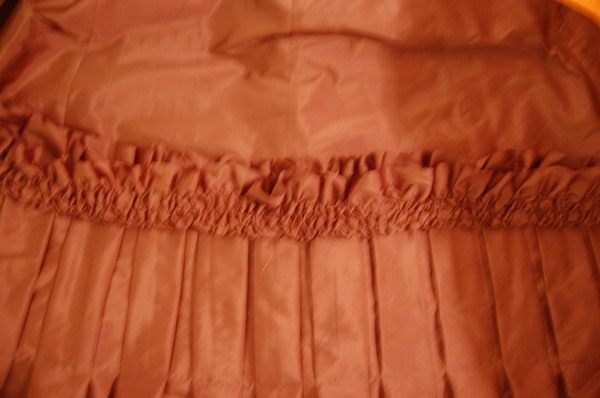 Pinned into place.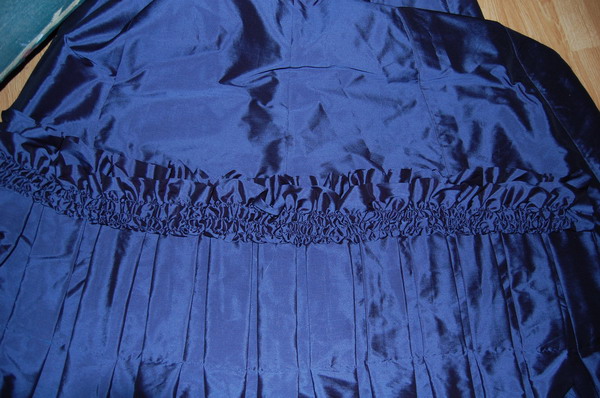 The same, with flash.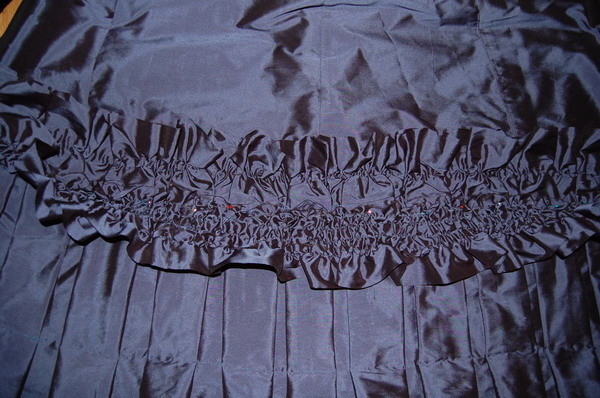 The ruffle folded down.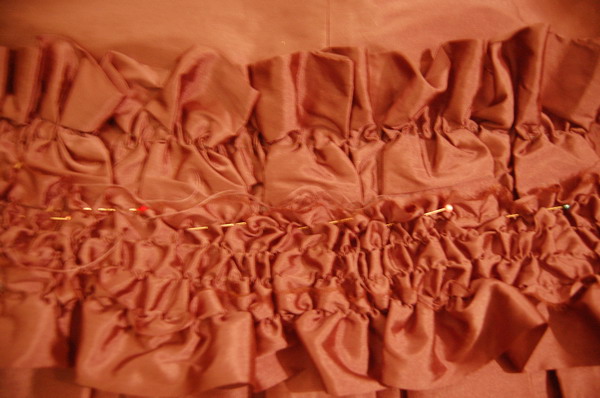 The same, no flash.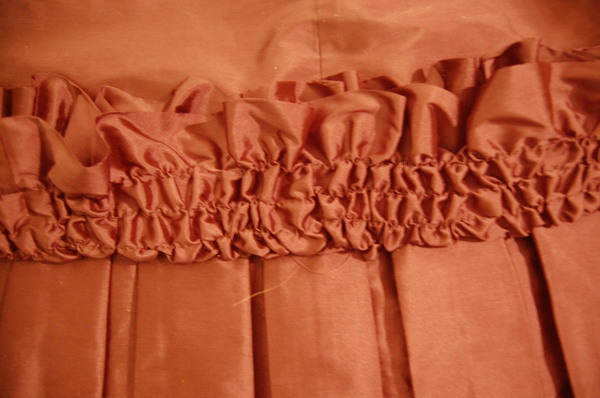 Close up folded up. The gathering lines will be machine sewed down.