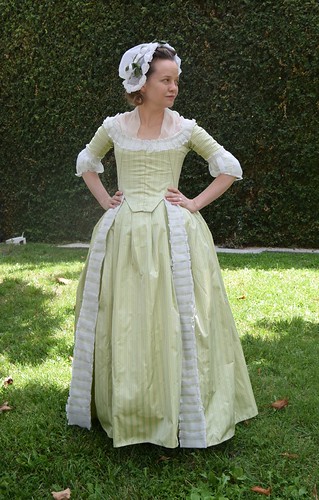 At long last, after wearing my piemontaise to a wonderful candlelit dinner, I wore it to Costume College and have pictures that show more of the dress and less of the atmosphere.
The robe a la piemontaise was a style from the 1780s that is something of a combination of a sacque and robe a l'anglaise, with a fitted bodice, pleats that attach at the shoulder and the skirt and are loose in between. I have a post documenting construction, based on an extant example
here.
It includes links to the pattern and other extant dresses.
The loose pleats in back are really what make this dress so fun to wear. While not as dramatic as a sacque, it somehow feels new and fashionable, despite being centuries old. Part of the fun of this hobby is trying out different styles, just how women in the past would have!
There are a few other reproductions out there, including
a lovely one made by At Her Leisure.
Miss Philomena also made one and posted her information on Live Journal.
Tensioning the pleats was a bit more fiddly than on a sacque, but not difficult, and I've noticed they sit differently depending on how my petticoats are sitting.
I'm wearing the dress over a split bumroll, which is perfect to emphasize the space between the bodice and the pleats (
more information at A Fractured Fairytale
), and the standard shift, stays and petticoats.
The pleats are great for optical illusions!